Get specific information for the choices below.
MyPBA: My Pension Benefit Access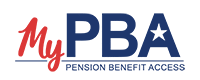 With MyPBA, you can create or log in to your account and enjoy these benefits:
View your 1099-R tax form 
Obtain a letter that verifies your PBGC income 
Update your address, contact and banking information
Update your federal tax withholding 
Request a benefit estimate 
Apply for benefits 
Workers & Retirees: Benefit Information
---
Manage Your Benefits
Find info on applying for retirement benefits, designating a beneficiary, and more.
Is PBGC Responsible for My Benefits?
See if your pension plan is protected by PBGC: 
Learn About Your Benefits
Learn more about the benefits PBGC guarantees.
How Can We Help?
See our frequently asked questions.