Here you will find information on applying for your retirement benefits, designating a beneficiary, requesting an income verification letter, adjusting your Federal tax withholding, reporting a death, and more.
Benefits
Learn how to apply for pension benefits once you become eligible under your pension plan. 
Find out the three types of beneficiaries. How to report a death and to designate a beneficiary.
See how to appeal your benefit determination.
Payments
See how to change your federal income tax withholding amount.
Obtain IRS Form 1099-R to file your taxes.
Request a letter to prove your pension income for housing assistance, a mortgage or other loan, or verification for another agency.
Learn how to apply for or update your direct deposit information. It's safe, secure, and simple, and eliminates the risk of lost or stolen pension checks or postal delays.
New PBGC Customers – Verify Your Information
If PBGC recently trusteed your plan, you can download and complete the Payee Information Form (also called the PIF or Form 701) and return it to PBGC via mail or fax. You can also verify your information using MyPBA. 
Changes
How to report a death and to designate a beneficiary.
Learn more how to update your name, address, telephone number, or email, or correct any inaccurate information PBGC may have about you.
How to name someone to act on your behalf.
Download forms for certain PBGC transactions.
Last Updated: June 3, 2022
MyPBA: My Pension Benefit Access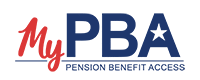 With MyPBA, you can create or log in to your account and enjoy these benefits:
View your 1099-R tax form 
Obtain a letter that verifies your PBGC income 
Update your address, contact and banking information
Update your federal tax withholding 
Request a benefit estimate 
Apply for benefits 
Workers & Retirees: Benefit Information
---
Manage Your Benefits
Find info on applying for retirement benefits, designating a beneficiary, and more.
Is PBGC Responsible for My Benefits?
See if your pension plan is protected by PBGC: 
Learn About Your Benefits
Learn more about the benefits PBGC guarantees.
How Can We Help?
See our frequently asked questions.