Learn how to apply for pension benefits once you become eligible under your pension plan.  
Find out the three types of beneficiaries. How to report a death and to designate a beneficiary.
Learn about PBGC's disability guarantees and eligibility requirements.   
Learn about benefit options and PBGC's payment schedule. 
See how to change your federal income tax withholding amount. 
Download forms for certain PBGC transactions.   
Learn more how to update your name, address, telephone number, or email, or correct any inaccurate information PBGC may have about you.
Obtain IRS Form 1099-R to file your taxes or show eligibility for the Health Coverage Tax Credit (HCTC).
Request a letter to prove your pension income for housing assistance, a mortgage or other loan, or verification for another agency.
Last Updated: July 7, 2021
MyPBA: My Pension Benefit Access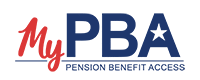 With MyPBA, you can create or log in to your account and enjoy these benefits:
View your 1099-R tax form 
Obtain a letter that verifies your PBGC income 
Update your address, contact and banking information
Update your federal tax withholding 
Request a benefit estimate 
Apply for benefits 
Office of Inspector General