PBGC guarantees basic plan pension benefits, including pension benefits at normal retirement age, most early retirement benefits, disability benefits, and annuity benefits for survivors of pension plan participants. Find out more, including our Maximum Monthly Guarantee Tables.
Frequently asked questions about PBGC and its insurance guarantees.
Learn about PBGC's guarantees and eligibilty requirements.   
Find out the three types of beneficiaries. How to report a death and to designate a beneficiary.
How to name someone to act on your behalf.
See information about divorce orders and other court actions.
See how to appeal your benefit determination.
Learn about PBGC's Missing Participants Program. 
See information about the IRS Health Coverage Tax Credit for PBGC participants and others.
See information on state guaranty associations.
See the latest local and national newspaper ads informing participants PBGC is taking responsibility for their plan.
Last Updated: September 30, 2021
MyPBA: My Pension Benefit Access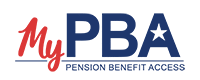 With MyPBA, you can create or log in to your account and enjoy these benefits:
View your 1099-R tax form 
Obtain a letter that verifies your PBGC income 
Update your address, contact and banking information
Update your federal tax withholding 
Request a benefit estimate 
Apply for benefits