If your defined benefit pension plan ends without sufficient money to pay all benefits, PBGC's insurance program will pay you the benefit provided by your pension plan up to the limits set by law. Learn more about the benefits PBGC guarantees.
Find out more about the pension benefits PBGC pays.
Learn about benefit options and PBGC's payment schedule. 
PBGC has ended its working retirement restriction on when participants are permitted to begin receiving early retirement benefits to which they are entitled under the terms of their pension plans. Retirement-eligible participants in PBGC-trusteed plans can now start to receive their benefit even if they continue working for the sponsor of their plan. If you were working on June 1, 2021, you can choose to start your pension later and receive a back payment covering the month of June 2021 and later months.
Learn about PBGC's guarantees and eligibility requirements.   
See information about divorce orders and other court actions.
See information about the IRS Health Coverage Tax Credit for PBGC participants and others.
MyPBA: My Pension Benefit Access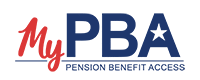 With MyPBA, you can create or log in to your MyPBA account and enjoy these benefits:
View your 1099-R tax form 
Obtain a letter that verifies your PBGC income
Update your address, contact and banking information
Update your federal tax withholding
Request a benefit estimate 
Apply for benefits 
Workers & Retirees: Benefit Information
---
Manage Your Benefits
Find info on applying for retirement benefits, designating a beneficiary, and more.
Is PBGC Responsible for My Benefits?
See if your pension plan is protected by PBGC: 
Learn About Your Benefits
Learn more about the benefits PBGC guarantees.
How Can We Help?
See our frequently asked questions.