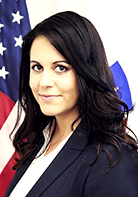 CHIEF OF STAFF
KRISTIN CHAPMAN
Kristin Chapman was appointed Chief of Staff in July 2019. In her role, she serves as chief strategic advisor to PBGC Director Hartogensis, while providing counsel on all pension and retirement-related matters. Ms. Chapman is the liaison for PBGC and the agency's Board of Directors and Congress. Additionally, Ms. Chapman is responsible for cultivating cross-departmental relationships within the agency to bolster and support PBGC's mission.
Prior to joining PBGC, Ms. Chapman was a Senior Legislative Officer at the U.S. Department of Labor, where she oversaw the Senate confirmation and transition of six presidential appointees to federal agency head positions. She was also responsible for preparing congressional testimony and responding to congressional inquiries. Ms. Chapman has also served as the Subcommittee Staff Director for the U.S Senate HELP Subcommittee on Primary Health & Retirement Security and as a legislative assistant for a former U.S. House of Representatives Member on the Ways and Means Committee.
Ms. Chapman began her career as an associate attorney in the ERISA practice group of an international law firm in Washington, DC and as an Employee Benefits Consultant at an international accounting firm in Auburn Hills, Michigan.
Ms. Chapman earned her LL.M. in Taxation from Georgetown University Law Center, her J.D. from Michigan State University College of Law, and a B.A. from the University of Michigan. She also earned an A.A. in French from the Defense Language Institute in Monterey, California.
---
CHIEF POLICY OFFICER
ANN ORR
Ann Orr is the Chief Policy Officer and leads the Office of Policy and External Affairs. In this role, she oversees the coordination of policy development, analysis, research, and legislative affairs, as well as agency communications and interactions with PBGC stakeholders. Ms. Orr was most recently acting director of the Center for Presidential Transition at the Partnership for Public Service.
Ms. Orr served as chief of staff at PBGC from 2011-2019, where she helped manage top agency priorities and provided strategic advice to the Director and agency officials. She also served as liaison to the Board of Directors and worked closely with White House officials and Congress. Previously in her career, Ms. Orr worked at the National Endowment for the Humanities (NEH), where she served as chief of staff. Additionally, she spent 10 years on Capitol Hill as a professional staff member on the Senate Health, Education, Labor and Pensions (HELP) Committee. There, she aided in efforts to enact legislation in elementary, secondary, and vocational education.
Outside of her work in government, Ms. Orr was the executive director of two private-sector foundations: the National Association of Broadcasters Education Foundation and The National Trust for the Humanities. She holds a B.A. from Yale University.
---
CHIEF FINANCIAL OFFICER
PATRICIA KELLY
Patricia Kelly is the Chief Financial Officer at PBGC where, in addition to corporate wide responsibilities, she oversees the Financial Operations Department, Corporate Investment Department, and the Corporate Controls and Reviews Department. She joined the PBGC in November 2007 after serving as the CFO at the Natural Resources Conservation Service of the U.S. Department of Agriculture. Preceding that position, Ms. Kelly was the CFO and Budget Officer for the Federal Crop Insurance Corporation. Prior to her career as an accountant, Ms. Kelly worked at the Bureau of the Census as a statistician where she served in several positions. Her capstone position was the Assistant Division Chief in the Decennial Census, the largest peacetime operation of the United States government. Ms. Kelly has earned several prestigious awards over her Federal career including: AGA Elmer Staats Award for Life Time Achievement; Presidential Rank Award; USDA Chief Financial Officer's Summit Award; Department of Agriculture Secretary's Award; and Department of Commerce Bronze Medal. Ms. Kelly earned an MBA from American University, and an MA and BA from Pennsylvania State University. Ms. Kelly holds a CPA license, a Certified Government Financial Manager (CGFM) certification, and a Chartered Global Management Accountant certificate.
---
GENERAL COUNSEL
KAREN MORRIS
Karen Morris is the General Counsel, providing legal advice and counsel for the Director and the agency on all legal and regulatory issues. This includes enforcement of Title IV of ERISA, including its multiemployer and single employer plan provisions, through litigation, negotiation, drafting regulations and guidance, deciding administrative appeals and administration of the Freedom of Information Act. She also advises the agency on corporate governance, ethics, procurement, labor relations, and privacy. Most recently, Ms. Morris served as PBGC's Chief of Negotiations and Restructuring. She also previously served as Deputy Chief Counsel in PBGC's Office of the Chief Counsel, where she led several major lawsuits arising from M&A transactions and directed PBGC's legal work in major bankruptcy cases.
Ms. Morris received her law degree from Georgetown University Law Center, where she served as an editor of the Georgetown Journal of Legal Ethics, and her Bachelor of Science degree in accounting from the University of Maryland.
---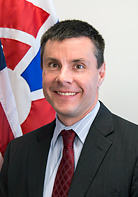 CHIEF OF BENEFITS ADMINSTRATION
DAVID FOLEY
David Foley is the Chief of Benefits Administration. He is responsible for planning and directing PBGC's benefits administration activities. Mr. Foley joined PBGC in May 2015 as Senior Advisor to the Chief of Benefits Administration and has served in multiple roles since that time including the Deputy Chief of Benefits Administration, Director of the Participant Services Department and Acting Director of the Plan Assets and Data Management Department.  Prior to joining PBGC, Mr. Foley served as Director of Aviation Logistics at the Federal Aviation Administration (FAA), where he provided executive oversight of the FAA's real and personal property assets. Mr. Foley spent the first 15 years of his federal government service with the General Services Administration (GSA) serving in multiple capacities in headquarters, two regional offices and a field office. Mr. Foley worked his way up from an intern to the Senior Executive Service at GSA. He eventually became the Deputy Commissioner for the Public Buildings Service, where he was the Chief Operating Officer for an organization with 6,600 employees and a $9.2 billion budget. Mr. Foley holds a B.S. in Finance from Missouri State University and an Executive M.B.A. from Virginia Tech.
---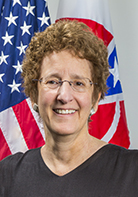 CHIEF MANAGEMENT OFFICER
ALICE MARONI
Alice Maroni is Chief Management Officer. She came to PBGC in May 2011 after ten years at the Smithsonian Institution where she served as Chief Financial Officer, with responsibility for the Institution's financial integrity, including budgeting and contracting services. Before joining the Smithsonian, Ms. Maroni was Principal Deputy Under Secretary of Defense (Comptroller). In that capacity, she advised the Pentagon leadership on all budgetary and fiscal matters and management improvement programs. On a day-to-day basis, she directed the justification of the budget to Congress, managed departmental negotiations on the budget in the inter-agency process, and oversaw the execution of the annual budget. On an interim basis, she served as a Special Assistant to the Secretary and Deputy Secretary of Defense, functioning as the Department's chief of staff. Prior to her tour in the Pentagon, Ms. Maroni was a professional staff member of the House Armed Services Committee, advising and assisting the Chairman and other committee members on defense budget, financial, and economic issues. Before joining the committee staff, she worked in the Foreign Affairs and National Defense Division of the Congressional Research Service at the Library of Congress. Ms. Maroni graduated from Mount Holyoke College and earned a masters degree from the Fletcher School of Law and Diplomacy at Tufts University. She is also a graduate of the National War College. Ms. Maroni is a recipient of the Distinguished Federal Leadership Award given by the Association of Government Accountants. She is a certified Government Financial Manager and a member of both the Association of Government Accountants and the American Society of Military Comptrollers (ASMC), serving as the National President of ASMC from May 1995 to May 1996.
---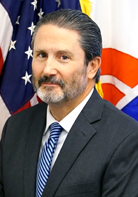 CHIEF OF NEGOTIATIONS AND RESTRUCTURING
JOHN HANLEY
John Hanley is the Chief of Negotiations and Restructuring, where he directs activities of the Office of Negotiations & Restructuring, which includes ensuring the quality of representation on pension insurance program activities such as early warning and risk management, compliance and enforcement, financial analysis and negotiations, standard termination processing, and multiemployer plan program activities. Mr. Hanley has been with PBGC since 2005, serving first as Director of the Legislative & Regulatory Department and later as Director of Negotiations & Restructuring Policy. Earlier in his career, Mr. Hanley held executive management positions at both Citicorp/Citibank and The Chase Manhattan Bank, as well as serving as CEO/Executive Director of the North American Securities Administrators Association.
Mr. Hanley graduated cum laude from St. Lawrence University, with a Bachelor of Arts in History. He also studied at Case Western Reserve University and the University of Edinburgh in Scotland.
---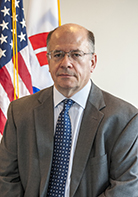 CHIEF INFORMATION OFFICER
ROBERT  SCHERER
Robert Scherer is Chief Information Officer. Mr. Scherer began his Government career with the U.S. Secret Service in 1986. While at the Secret Service, he served in a series of progressively responsible positions in application development, database administration, and IT infrastructure support. Mr. Scherer left the Secret Service in 2001, where he was the Assistant Division Chief for IT Infrastructure, to become the Deputy Chief Information Officer at the Bureau of Engraving and Printing. During his tenure at the Bureau of Engraving and Printing, he was responsible for the day-to-day management of the IT program and successfully led efforts to establish Capital Planning and Investment Control, Configuration Management, and IT Security and Enterprise Architecture programs. He also developed a cadre of certified project management professionals. While at the National Transportation Safety Board—where he served until 2015—Mr. Scherer was responsible for closing significant long-term audit findings and instrumental in improving IT business processes. Mr. Scherer holds a MBA in Information Systems from George Washington University and is a graduate of the National Defense University's Chief Information Officer and Advanced Management Programs.
---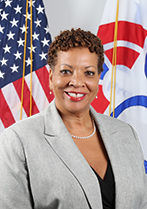 DIRECTOR OF EQUAL EMPLOYMENT OPPORTUNITY
BRENECIA WATSON
Brenecia Watson is director of Equal Employment Opportunity. Ms. Watson supports agency efforts to protect America's pensions by promoting the creation of a model EEO program based on equal employment opportunity, diversity and inclusion. She oversees PBGC EEO programs, directing and reporting on affirmative employment, EEO training initiatives, conflict resolution and EEO complaint processing. She reports directly to the PBGC director. She came to PBGC in June 2016 after serving as the EEO director at the Army's Aberdeen Proving Ground. Prior to that she was deployed to Bagram, Afghanistan, in 2010-2012 as an EEO officer. Ms. Watson was selected by the Department of the Army to be an equal opportunity advisor in 1998. She was a Distinguished Honor Graduate of the Department of Defense Equal Opportunity Management Institute. She completed a Bachelor of Arts degree in human resource administration from St. Leo University, Florida, and a dual Master of Arts degree in human resource development and management from Webster University, Missouri. As an EEO professional, Ms. Watson deployed to Kuwait and Afghanistan in support of Operation New Dawn, where she spearheaded efforts to stand up a sexual harassment and assault response and prevention program, provided EEO training, alternative dispute resolution, complaint processing and advisory services. Ms. Watson completed her 22-year career with the Army as a noncommissioned officer, retiring in 2005 having participated in the Persian Gulf War, and the War in Bosnia and Herzegovina.
---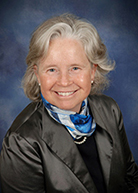 PARTICIPANT AND PLAN SPONSOR ADVOCATE
CONSTANCE DONOVAN
Constance Donovan is the Participant and Plan Sponsor Advocate. The position was created when the Moving Ahead for Progress in the 21st Century Act (MAP-21) was signed into law on July 6, 2012. The PBGC Board selected Ms. Donovan to serve as a liaison between the Corporation and participants and plan sponsors and to advocate on behalf of retirees. Prior to joining PBGC in December 2013, Ms. Donovan served as a pension counsel in the Office of the General Counsel at the Department of the Treasury. Previously, Ms. Donovan worked with PBGC during her tenure at the Department of Labor's Employee Benefits Security Administration. While there, Ms. Donovan coordinated daily activities between PBGC's board agencies comprised of the Departments of Labor, Treasury, and Commerce, and PBGC staff to assist in the Board's oversight functions. Ms. Donovan also served as executive director and general counsel to several prominent public pension plans. She began her career in business with NCR Corporation where she assumed increasing management and leadership responsibilities within the company. Ms. Donovan earned her LL.M. in Taxation from the Georgetown University Law Center, her J.D. degree from the American University Washington College of Law, and a Bachelor of Arts from Boston College.