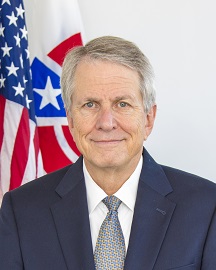 W. Thomas Reeder
Director, Pension Benefit Guaranty Corporation
Tom Reeder is the 15th Director of the Pension Benefit Guaranty Corporation.
Reeder began his employee benefits career as an associate attorney at Akin, Gump, Strauss, Hauer and Feld and later at Paul Hastings, where he became a partner in the national employee benefits practice group.
In February of 2000, he joined the office of Benefits Tax Counsel in the Office of Tax Policy in the Department of the Treasury, where he worked for three Administrations. He was named Benefits Tax Counsel in 2005. He joined the staff of the Senate Finance Committee in May of 2009. As such, he was a key advisor in several significant legislative initiatives affecting the employee benefits arena. Starting in March of 2013, Reeder served as an executive in the Office Chief Counsel at the IRS.
A native Texan, Reeder is a graduate of the University of Texas at Austin College of Arts and Sciences, Graduate School of Business, and School of Law.