A MESSAGE FROM OUR DIRECTOR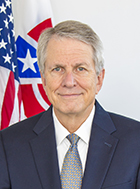 The most important role we have at the Pension Benefit Guaranty Corporation is to protect the retirement security of nearly 40 million workers, retirees, and beneficiaries in traditional pension plans. These plans, and the guarantee provided by the PBGC, are important not only for the participants, but also their families and often the communities in which they live.
As many Americans continue to benefit from longer lifespans, the need for lifetime income is more important for current retirees and generations that follow. Nothing gives people more retirement security than a traditional pension that they can't outlive or outspend.
During this past year, I've been able to work with a talented group of professionals to make sure that when a plan can no longer fulfill its promises to participants and beneficiaries, PBGC will step in and pay the statutory guarantee.
Currently, we pay nearly 840,000 retirees and beneficiaries, and almost 560,000 workers are scheduled to receive benefits from PBGC when they retire. We are committed to getting timely and accurate payments to these people each month.
Preserving plans and protecting pensioners are two of our highest priorities. An important accomplishment this year was the restoration of two RG Steel pension plans to the Renco Group. This is the second time in our history that we have restored a plan back to the sponsor that made the commitment to its workers in the first place. This is an extraordinary outcome for the 1,350 people covered. Thanks to PBGC's efforts, they will receive the full benefits they've worked for.
We also strive to engage and collaborate with the stakeholder community, including participants, sponsors and service providers, to listen to their concerns and continue to work on ways to make it easier for plan sponsors to maintain traditional pension plans. This year, for example, PBGC issued a final rule that cuts penalties for late payment of premiums in half, which reduces the regulatory and financial burdens of sponsoring a pension plan.
Additionally, the scope of PBGC's mission is increasing by expanding our Missing Participants Program to include terminating defined contribution plans that are not covered by the existing program. We reached out to the community to see what was needed and got input on practical ways to do it. In September, we issued a proposed rule that would help find participants and connect them with their retirement savings.
PBGC's work on implementing the Multiemployer Pension Reform Act of 2014 is ongoing. We issued a proposed rule on facilitated mergers, a tool targeted to help troubled multiemployer plans improve their long-term health. PBGC continues to work with the Departments of Labor and Treasury to carry out the law.
PBGC continues to collaborate with stakeholders in the multiemployer system to find solutions to resolve its financial difficulties. At the same time, we must protect the benefits of those left behind in the existing defined benefit system, even as new plan models emerge.
We are working to remedy the financial troubles of PBGC's Multiemployer Program, which is expected to run out of money in the near future. It is in all stakeholders' interests -- workers, retirees, and plan sponsors -- that the PBGC is financially sound.
We continue to work with others in the administration on ways to improve the financial condition of the multiemployer program. There is still much work to be done to protect the retirement incomes of those who rely on us.
Providing excellent customer service is among our top priorities. We are proud that the retirees we serve have given us a score of 90 on the American Customer Satisfaction Index. This score is among the best in the public and private sectors. Everywhere I go, people make an effort to tell me about someone at PBGC who was very helpful to them. It reinforces what I already know - that the drivers of PBGC's hard work and accomplishments are the agency's professional staff who are dedicated and passionate about PBGC's mission. Together, we have a firm commitment to ensure that American workers have greater financial security in their retirement years.
I am grateful to the Board of Directors - Secretary of Labor Tom Perez, Secretary of the Treasury Jack Lew and Secretary of Commerce Penny Pritzker and their staff - for their support during my first year at PBGC. We thank them for their leadership and dedication to our mission.

W. Thomas Reeder
Director
November 15, 2016