PBGC is a federal agency with more than 900 employees. Our staff is composed of the following professions: accountants; actuaries; attorneys; auditors; budget, financial and management analysts; information technology specialists; employee benefits law and public affairs specialists; administrative personnel; and more. Every PBGC employee plays an important role in PBGC's mission of protecting America's pensions.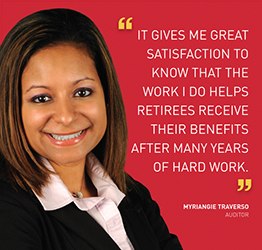 Seeking employment at PBGC?

Connect with Human Resources
Equal Opportunity Employer Statement
PBGC is committed to the principle that its personnel actions for all employees and applicants for employment shall be based on merit without regard to race, color, religion, gender, national origin, sexual orientation, age, veteran status, or disability, except where required by law. These actions include, but are not limited to: recruitment, selection and hiring, performance ratings, awards, training, promotion, termination, compensation, and fringe benefits. The agency's Equal Employment Opportunity (EEO) office develops and administers PBGC's EEO and affirmative employment programs. The Director of the EEO Office routinely reviews personnel policies and practices to ensure a discrimination-free work environment.
PBGC encourages qualified applicants with disabilities to apply. Applicants with disabilities who are interested in learning more about job opportunities under the Schedule A Hiring Authority and other available hiring flexibilities and authorities are encouraged to contact Kierra Evans, Human Resources Assistant, at 202-229-6889 or HR Recruiting. TTY/ASCII users may call 711.