A MESSAGE FROM OUR DIRECTOR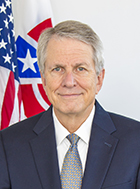 I am honored to have been nominated by President Obama and confirmed by the Senate as director of the Pension Benefit Guaranty Corporation (PBGC). I have always had deep respect for the people at PBGC, but during the confirmation process I learned even more about their talents and their dedication to their responsibilities. One of the most important things we can do as a nation is to help people become more financially secure during their retirement years. And, for more than four decades, PBGC and its extraordinary professionals have played a vital role in securing retirement for millions of workers and retirees. I am fortunate to be able to play a role in this effort.
One of the most important functions of PBGC is assuming responsibility for pension plans when their sponsors can no longer keep them going. We insure the benefits of more than 40 million workers and retirees. Currently, we pay more than 800,000 people each month. An additional 585,000 workers are scheduled to receive benefits from PBGC when they retire.
Our record of consistent on-time payments has earned the trust of retirees across the country. We realize our importance to the financial stability of families and their communities. Because of this, we continue to strengthen our management team, empower our staff, and work diligently to maintain high standards of stewardship and accountability. We are proud to have attained our 23rd consecutive unmodified financial statement audit opinion.
PBGC continues to engage stakeholders, including many employer, labor, retiree and practitioner groups, to explain agency activities and listen to their concerns. Working with stakeholders helps strengthen our relationships and enables us to work toward shared goals. For example, in September, we announced a new final rule on reportable events that reflected feedback from the sponsor community. The new rules give plans and sponsors flexibility in qualifying for waivers from reporting and will reduce the burden for employers whose plans are not at risk.
In December 2014, Congress passed the Multiemployer Pension Reform Act of 2014, which gives troubled multiemployer plans tools to help prevent insolvency of the plan and provides additional premiums to fund PBGC's multiemployer program. PBGC, along with the departments of Treasury and Labor, is working hard to implement the new law as fairly as possible. We, along with others in the administration, are focusing on doing what we can do to improve the deficits in both the single-employer and multiemployer programs so that we will be able to protect retirement promises long into the future. 
As the environment for a secure retirement continues to change, a strong and effective PBGC is more important than ever. I am extremely honored to be appointed to lead PBGC during this critical time. I am also especially proud of the work we do here. All of us at PBGC share the same passion for and commitment to protecting the pension benefits of the nation's workers and retirees.

W. Thomas Reeder
Director
November 16, 2015