A MESSAGE FROM OUR DIRECTOR

A GOOD AND COMPASSIONATE AGENCY PROVIDING HELP IN TROUBLED TIMES
In my three years as Director, I have come to think PBGC is one of the most competent and compassionate agencies in the US government. PBGC has several very complex jobs: PBGC must learn and apply the specific rules of different pension plans of hundreds of companies to hundreds of thousands of people. It must decide whether many of the companies that say they cannot afford their pensions truly cannot. PBGC does these and other complicated jobs compassionately and well.
In the pages that follow, you'll read about some very good work.
Serving the people who count on us: When we take responsibility for people's pensions, their lives have already been disrupted. We try to provide security — reliably — at a time when people need it.
Serving the companies that sponsor plans: In the U.S., private pensions are a voluntary choice by employers. We're working to reduce unnecessary burdens on employers, and are making it easier for plan administrators to do their jobs.
Working to improve retirement security: We work both to provide more options for a secure retirement, and to help people understand the options they have.
But that doesn't mean PBGC cannot improve. PBGC has not rested. We have worked tirelessly to preserve plans where possible and to cover pensions where not.
130,000 people at American Airlines were told by their management that their pensions would be terminated, that American couldn't afford to keep them. Thanks in important part to the dedicated and coordinated efforts of PBGC's financial analysts, lawyers, and actuaries, American agreed not to do so. We continued to work throughout 2013 to help solve many issues in the case.
10 years ago, more than 800 employees of New Jersey's Hospital Center at Orange found out their pensions were no longer insured by PBGC. This year, PBGC worked with the IRS to reverse that, so they will continue to receive benefits although their plan is almost exhausted.
Faced with the possible collapse of multiemployer pension plans covering millions of workers, PBGC staff is working to understand diverse circumstances of the plans to find ways to preserve those plans and protect benefits.
PBGC continued to work with pensioner advocacy groups to help ensure that people confronted with the option of giving up their pensions in exchange for lump-sum payments understand the perils of taking that choice.
This past year, we became responsible for the pensions of an additional 57,000 people. We added these to the 1.5 million people we already serve – and never missed a payment.
 
MAKING A GOOD AGENCY EVEN BETTER
One of my most important tasks as Director is to ensure that PBGC's very talented and committed professionals have equally talented and committed leaders. We are working hard to bring to PBGC a new generation of PBGC management. I'm pleased that we continue to find excellent leaders to advance PBGC's missions. In the past year, we've brought in new leaders in our benefits payment, IT, restructuring, and policy research departments. All are energized and have begun to take a fresh look at the agency's work. We followed up by improving the way we support and train our managers.
We're also making changes to the way we do our work.
We're directly responding to comments on our website and our customer satisfaction scores remain high.
We're proposing to exempt some 90 percent of plans and sponsors from burdens they'd otherwise have to undertake. In response to complaints from business that our regulatory and enforcement programs were treating all plans as risky, we studied past history and found that the financial strength of the sponsor, not plan funding levels, was the most important factor. As a result, we're focusing our efforts on large and financially risky sponsors and removing requirements on financially sound sponsors and small businesses.
We formed an independent Quality Management Department to foster continuous improvements to our processes and performance.
We're continuing to rethink and reform our basic benefit determination process and organization. We're changing many of our processes and training PBGC staff to meet ever higher standards. And we've begun to rethink and consolidate our use of real estate rental properties.
 
PRESERVING MULTIEMPLOYER PLANS
Multiemployer pension plans protect more than 10 million people and their families. Unfortunately, due to economic changes and investment market declines, a minority of these plans are in trouble. Although the Employee Retirement Income Security Act (ERISA) allows some flexibility to avoid insolvency, for many plans that won't be enough. Without additional changes, we project that plans covering hundreds of thousands of people will fail. Sadly, PBGC's own funding is itself inadequate to pay benefits if their plans fail.
PBGC is working to develop ways to preserve these plans and the benefits they provide. Congress has made clear its interest in preserving pensions, and we are working with the plans, their unions and employers, other agencies, and the Congress to help find workable solutions. The next year will be critical to the success of these efforts.
FUTURE RETIREES WORRY
One of PBGC's primary missions under ERISA is to "encourage the continuation and maintenance of voluntary private pension plans." It's an obligation we take seriously. The trends are ominous:
Americans today are spending more years in retirement. They're healthier and more active. That's great news, but, unfortunately, pensions haven't kept up.
Many businesses, for competitive and other reasons, continue to reduce their support for retirement plans. Some switch from a defined benefit (DB) plan to a defined contribution (DC) plan that costs less and comes with fewer obligations. Others offer lump-sum cash payments to employees or retirees to settle the employer's obligations.
Left on their own, many people save less, invest less well, and plan less well. They invest less, they pay higher fees, and they get lower returns.
Many employees defer retirement, but still don't have enough for retirement – and they're worried. One poll cited by the Senate Health, Education, Labor and Pensions Committee says that 92 percent of people think there is a retirement crisis. They're right to be concerned.
 
WHAT CAN GOVERNMENT DO?
Our workplace retirement system is not provided by government — it's the shared responsibility of companies and individuals. But government can help — and at PBGC we're doing our part.
Help Preserve the Plans We Have
Defined benefit plans still cover over 35 million active workers in private and public sectors. Tens of thousands of companies continue to offer DB pensions. Many would like to continue to do so, and we're trying to help.
Even before troubled companies enter bankruptcy, we work to protect their plans. And when companies enter bankruptcy, we first seek to preserve their plans if possible — as in the case of American Airlines.
We also work with the other ERISA agencies to try to make law and regulations more flexible, so fewer companies feel the need to drop their plans.
Allow More Options and Make Them Easier to Use
One size does not fit all. Each company's situation is different. Some companies are willing to keep DB plans if they can share risks and costs with their employees; hybrid DB/DC approaches could help. Others would offer lifetime options if they didn't also come with permanent obligations.
In FY 2012, we published a proposed rule helping to clarify rules governing cash balance plans, which would help employers to choose them with confidence. We're working with the other ERISA agencies on these and other ways to increase flexibility and expand options for employers and employees.
There are a variety of proposals to expand retirement security options — some at the federal level and some at the state.
Recognize That Retirement Will Cost More, Not Less
As more Americans age and live longer, healthier lives, both private and public retirement programs will necessarily cost more in the future. We must recognize this, and determine the steps that will be necessary to pay for them. That doesn't mean that employers will write blank checks to pay for everything. They won't. People will have to save more, too, both inside and outside their 401(k) plans.
PBGC'S OWN FINANCES MUST BE SOUND, TOO
PBGC is funded by assets from trusteed plans and premiums from plan sponsors, not by taxpayer dollars. Unfortunately, our premiums are set in law.
They're both too inflexible — so that some plans are unfairly paying for the risks of others — and too low to cover PBGC's benefit guarantee levels.
In 2003, the Government Accountability Office added PBGC to its "High Risk" list of agencies, because we control neither the benefits we pay nor the premiums we charge. Congress has repeatedly raised PBGC's premiums, but they remain too low to fund our obligations. That's why, 10 years later, we remain on GAO's High Risk List.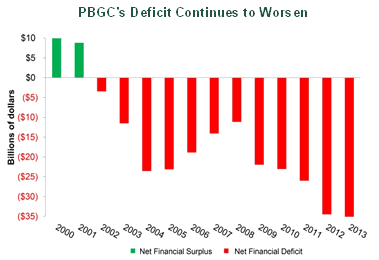 Although PBGC has a net financial deficit, PBGC still has very substantial assets, and the day when we run out of money is years away. We now project that, absent changes, our multiemployer program will be insolvent within 10-15 years. PBGC's projections are consistent with projections made by actuaries of large troubled plans. That date is being moved up by changes in pensions and the room for maneuvering is shrinking every year. Administrations of both parties have proposed putting PBGC finances on the same basis as other government insurance programs and private insurance, by making PBGC's Board responsible for setting premiums.
Without the tools to set its financial house in order, PBGC may face for the first time the need for taxpayer funds. That's a situation no one wants.

In 1974, Congress enacted and the President signed ERISA, landmark legislation designed to preserve and enhance retirement security. Over the four decades since, we've seen many changes. The retirement plans of 1974 will not meet the challenges of the 21st century. Congress has repeatedly recognized the need to adapt. It must do so again. We hope in the year ahead that Congress will again act to preserve the multiemployer plans on which tens of millions of people depend, and to allow PBGC to raise the funds it needs to protect the millions of pensioners who depend on us.
Much has changed. What has not changed, however, is the nation's desire for a secure retirement. Providing secure retirements remains a national goal. Achieving it will require the collaboration and cooperation of many, both inside and outside of government — employers, employees, pensioners, and their representatives, working with the ERISA agencies and members of Congress in both houses and on both sides of the aisle.
The people of PBGC stand ready to help, and look forward to doing so — to find new ways to enhance the security of millions of retirees, and of the millions more who will retire in the future.
Josh Gotbaum
Director
November 15, 2013